i've been encountering some major startitis lately as i near the deadline for my book knitting. i'm finishing off one garment right now, with two more garments and three accessories left between now and the end of february. totally do-able. i don't sleep much anyway. i've actually been surprisingly efficient with my knitting lately, i think because my anxiety is kept right on the edge and so i keep working on single projects furiously until they're done so i can tick them off the to-do list. of course, that doesn't stop me from dreaming about all the things i want to make post-february 29th. and by all the things, i really do mean all the things - selfish knits and sews, new mini and larger collections (the larger ones are still very fuzzy in my head, as i'm attempting to not lose too much focus yet), jewelry, bone and antler foraging, house projects...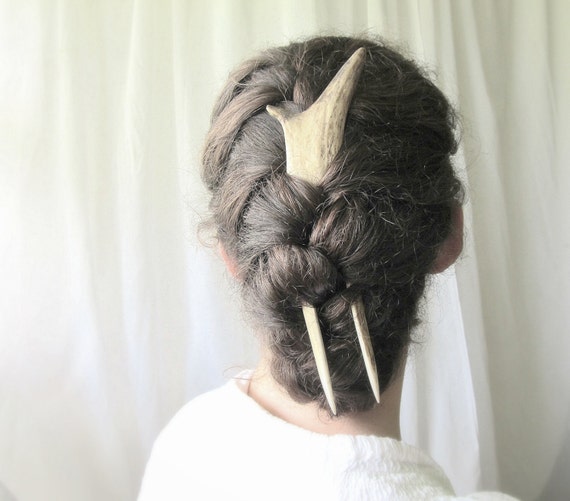 all i want to do is go foraging with grace and find all the bones. this hair fork is just the most gorgeous thing.
i've talked a fair amount recently about wanting to add to my handmade wardrobe this year. my style shifts slightly every year or so (more often than that, but in significant enough ways to warrant new clothing each year). it's not that i completely reinvent myself each year - that was for the early years of my undergraduate degree. i think it's just a matter of what i feel most comfortable and myself in, which means some items of clothing stay with me for years while others get worn regularly for six months and then need to be donated or swapped after that for closet space. the thing about living in all the places i have is that the seasons are major. there is no "wear the same coat unless it's raining all year long", especially in the canadian prairies. summers get hot and muggy and i just don't want to wear anything at all, and then winters are cold and dry and static-y and gross. and fall is warmer and generally less wet than spring, warranting different types of layers. so a lot of clothing only has a three or four month wearing period before the weather shifts and it's not so useful anymore, and then when you pull it out nine months later, you've lost the love.
or so i thought.
as a textile artist and fibre nerd, i really should know by now that the type of fibre makes all the difference for clothing. linen and pure cotton don't get static-y or hot-sticky the way that man-made fibres or fibre blends do. and if you wear clothing in various levels of looseness, you can layer just about anything. i've been distracted on
pinterest
a lot lately by very loose silhouettes, especially in the hip area. since i'm already larger in the hips anyway, being able to either belt something around my waist or have a tighter bodice with a really loose skirt is basically the best of all worlds for me these days. i tend to have fewer layers on my lower half, so if there's a loose layer with lots of material, that means my skin can either breathe or hide from the wind, both of which are ideal. my upper body typically has three or four layers plus one to two neck layers which are easy to strip on and off. my body is terrible at regulating temperature, and i get cranky when too hot or cold (my joints stop working in both situations), so being able to de- or re-layer throughout the day is important.
i'm also distracted by thoughts of fresh ink (what else is new?). i'm really in love with the idea of getting a small ruler of dots on my finger, similar to what i've seen other knitters and sewers getting. it's so useful! i love hand tattoos and plan on getting some over the years, all related to my craft practice. my hands are one (two) of my favourite body parts, and they fascinate me. especially because i know that due to my genetics, as i age, they will change a lot and become more painful than they are now. so perhaps it's just that i'm appreciating them early because i know what's likely to come, and sooner rather than later because of the way i use them. of course, setting up a session for just a few dots is silly. i'd tack it on to another session to save money and time. i want moon phases across my upper back in black ink as my next tattoo, so maybe i'll do the two of them together at some point this year. i also want my septum pierced in the near future. so many plans...
i have shibui linen in
tar
for my own monochromatic faultline, maybe with antler buttons once it's done. imagine how pretty it would be with a bandeau underneath and moons across my shoulders in the summer heat...seriously, clothes in 35 degree heat are just not a thing.