it's nearly time for my annual reflections post, but first, i figured now is as good a time as any to talk about other resolutions for next year: my slow fashion wardrobe goals for 2016. i'm not sure how many of them will actually come to fruition, but currently this is what i would like to accomplish over the coming 12 months when it comes to adding to my wardrobe.
knitting
i've had
this shirt
on my needles since 2013. it's so close to being done! i just never get around to dealing with it because, well, it's a selfish knit, and my design deadlines have been so ridiculous lately that it's just never a priority. but i do really love it already, and it will probably only take a couple of days and some blocking to finish up. so i will hopefully get around to it after i deal with the book's knits. maybe i'll take it on the airplane with me when i go out east in march. it would make for some good plane knitting, and probably be finished over the course of the flights.
i bought this sweater's worth of
rios
in 2014 with the intention of knitting myself a
lila
with it. someone's instagram post about their own
lila
recently made me feel like that should go to the front burner. it's a pattern i know i could whip out over about a week if i really needed it, and the sweater construction would be a good reminder for me. regardless of whether it's
lila
,
hana hou
,
levenwick
, or
escher
(or maybe all of them!), i would really like to knit at least one selfish sweater for myself this year from someone else's pattern. working from other people's patterns is one of the most useful tools i have as a designer because i learn so much from working through each one, but i haven't had the opportunity to do it for a while because my own design work takes priority. but i know it would be beneficial for both my wardrobe and my skill set to continue working from other people's patterns, so hopefully i can squeeze in at least one sweater in 2016.
i bought
this yarn
only a few weeks ago, and have a design in mind for it that i've been wanting to do for ages. i'm adding on one of grace's buttons too. it'll be a design first and foremost, but it's also then going to quickly find its way into my everyday wardrobe. mwah ha.
there is totally not a theme of purple happening here at all...nope, not even a little bit.
sewing
all of the
wikstens
! i love this pattern a lot and have already sewn two of the dresses. i'm going to sew another for the photoshoot, and i will probably sew another one on top of that. they're quick, a great way to use a multitude of fabrics, and a fabulous wardrobe staple when it comes to the way i layer.
i have a substantial backside, which i have come to love, but it means that dresses that start off at just the right length don't need to shrink by very much to suddenly become more of a tunic that has a very high likelihood of riding up. i always wear either shorts or yoga pants under my dresses anyway, so it's not that big of a deal, but a number of the dresses recently have really become tunic length. and i just can't quite get myself into the whole leggings-as-pants thing. so i think sewing these pants out of a lovely darker linen will save some of that - they have pockets, i can practice sewing pants (a fear of mine) out of something not too terribly fitted, and then i can at least say i'm wearing pants under my dresses/tunics/now-it's-really-just-a-long-top.
i'm sewing myself an
elisalex
for my twinsy's wedding, which is thankfully still ages away. i ordered the
actual fabric
i'll be making it out of, so up first will be a muslin using some stash fabric i've had forever, then getting mel to help me figure out the exact fit and any mods i may want to make, and then i'll make the actual dress.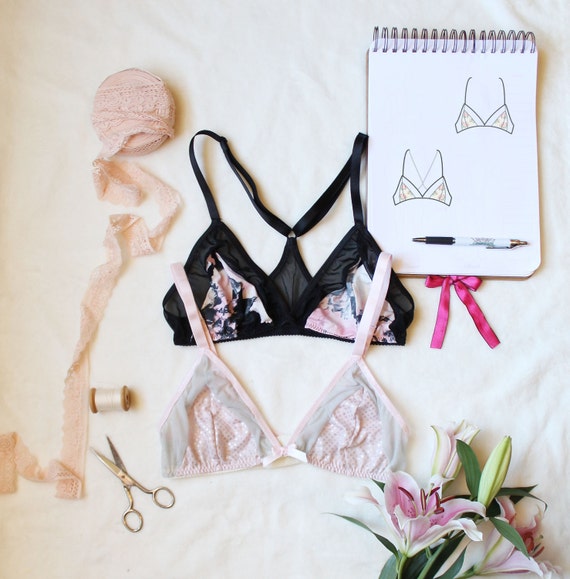 ohhh lulu is one of my favourite lingerie pattern designers.
i want to sew more lingerie for myself. that shit is expensive, and if i can get the black lace myself (ahem...or if i already have a massive bag of various types of black lace in my stash), why not make some of it? it'll improve my sewing skills, it doesn't involve having to deal with either the mall or hunting down a small boutique, and maybe someday i'll get good enough to not have to buy any lingerie! other people can maybe buy me some sometimes. lingerie as a gift can be great, if the circumstances are right and the person doing the buying is smart about it.
i'm subscribed to
seamwork
by
colette patterns
(and now so is mumsy!), so i'm sure i'll have random projects that pop up through that over the year.
other stuff
i want to make more things with bones, and go on foraging hunts for bones and dye stuffs, and just generally make all the beautiful things. so we'll see. the more money i save by working through my stash and foraging in the woods, the more i can save! or put towards new ink. or both.