here are the chunks of white cotton and lace swatches pre-alum mordanting…
and here they are in the dye pot! there wasn't a discernible difference pre- and post-mordanting. since there's still a stupid amount of snow everywhere, my natural dye foraging expeditions are on hold. so, i've placated myself with table scraps and things destined for the compost. the photo above is a dye pot filled with the extract of avocado skins and pits. i forgot to take a photo of the daffodil heads. mum grabbed a bunch a couple of weeks ago during the annual cancercare funding drive, and they dried a slow and beautiful death. then i snipped their heads off and stuck them in a tupperware container until i was ready to dye with them.
i'm a bit obsessed with flowers right now. i think their hardy little heads are the perfect "fuck you" to this never-ending winter. i hunted down some seeds in the garage, and am currently attempting to grow some sunflowers (on purpose, rather than the accidentals that pop up around the yard courtesy of messy birds). i'll post progress as it happens. i'm hoping that by the time my birthday rolls around in a couple of weeks, there will be flowers poking their happy faces out of the dirt, even if it's just in a pot in the house.
lace panels for my prototype undies. faun's eyes lace stitch in amazing flecked purple koigu.
in terms of what's on my needles right now, i've got a few things actively going (of course), but there are some projects i'm trying to focus on. i have the two shawls that are getting a fair amount of focus since they both have an early may deadline, but they should be finished long before that. i also have the lace panels to knit for the art show undies, and i knit a pair for myself last night so that i have a prototype before offloading them onto the rest of you. finally, i'm making more bow ties: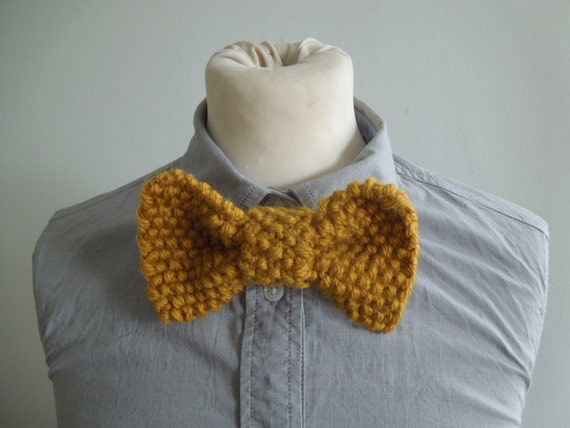 remember these? i've been thinking about what sorts of projects i could add to the etsy shop/sell at local shops that would fit in price brackets similar to my own. these inevitably mean small, quick items that i can churn out in an hour or so, but that are still cute and functional and that are something you'd actually want to own. i love these bow ties/hair bows, and i enjoy making them. perfect option. i still love knitting bigger objects, but at this point a lot of those are now on a commission basis rather than a random whim. if it's not a gift or something i'm going to wear right now, it needs to be able to sell relatively quickly. so spending a lot of time and using stash yarn on knits i don't really care about and no one else specifically wants doesn't really make sense. it's funny that i have to schedule my knitting time so much as a freelancer, but i really do have to plan things out in detail. bows are fun though. so, expect to see them in an etsy update eventually.
i'll leave you with an image of these coconut bars. they're just about the easiest thing to make ever. my one suggestion: don't use buckwheat honey if you value your life. or your tastebuds. or your reputation as a person who inhabits the kitchen. in fact, don't use buckwheat honey in anything that has even a hint of a mild flavour. because buckwheat honey has a life and flavour all on its own, and it will win every single time. (dearest guinea pigs, fear not. i used clover honey in these.)