the mrs. flew out yesterday, which sucks. i'll be going to see her in a couple of months, but the long distance is definitely something i could do without. also got news that the grant application i put in a month ago didn't get approved, and then i slept through my alarm this morning and so missed a skype meeting with my theatre company colleagues. annoying, given that we're dealing with 6 and 7 hour time zone differences to begin with. so, the last couple of days haven't been the greatest.
but enough of the complaining.
last night at about 1am, i suddenly had a burst of creative energy. i wanted to do and make everything. dreams of painting inspirational signs, knitting awesome things, sewing cool stuff, getting tattoos, writing everything, doing all of the yoga, drinking all of the tea. it was a great burst, just came at an inconvenient time (i wasn't about to go hunting through the office for painting supplies). it's still pretty fun though. also, i ordered some awesome things from wit and whistle on etsy. valentine's day stuff and things to make snail mail a wee bit more exciting than it already is. i'll take a pic when they arrive so you can admire them too.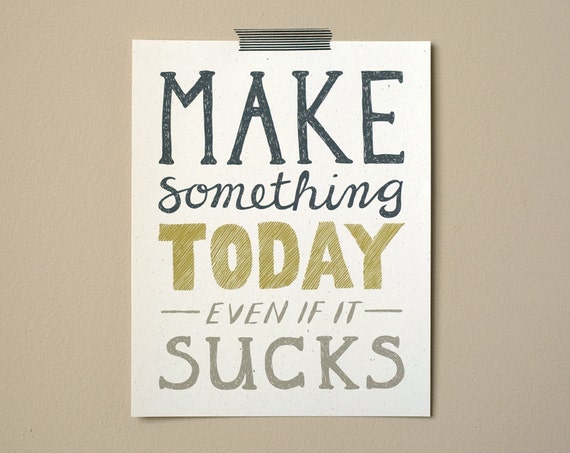 basically the best sign for any artistic person/space ever. £11.23 from wit and whistle on etsy.
my commission is coming along nicely as well. 28 hours in (knitting time, not real time) and i've got the back panel finished. i'll take a pic on a sunnier day. the clouds have control of the skies today. i'm moving on to the side panels/sleeves today, which means it's time to pull out the tissue paper and start shaping!
here's a pic of one of the mrs.'s xmas gifts. it's the my dear pattern from claire garland on ravelry. pretty damn adorable, if i do say so myself.
also, because i'm a bit adhd with my knitting projects (most of us are, right?), i decided to cast on the amy march's slippers by tiny owl knits. why? because i wanted slippers and knew i'd have more than enough eco+ from my winterberry shawl left over to make them, and this pattern is super quick. i love basically all of stephanie's patterns, although i'm not sure how many i can wear in public unless i'm with my hippie friends or in the woods. knits are great for the woods though, so we're fine. probably her best known pattern is the beekeeper's quilt, which is totally on my to-knit list. i'm going to hunt down some scrap leather to cut into soles and sew onto the bottoms so the slippers don't wear down so quickly, and to lessen the amount of dog hair i track around.